Thinking Of Installing Granite Countertops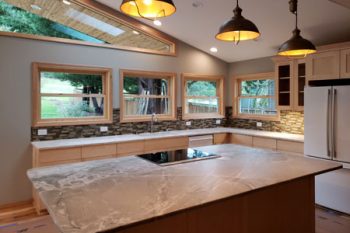 Granite makes a fantastic material for counters as they are strong, durable, and can last for decades with minimal care. It also gives a distinguished look that can't be replicated. And it can even increase the value of your home. Our Vancouver, WA showroom has an incredible selection of granite, quartz, and natural stone, and you're sure to find the look that's perfect for your home!
Granite Can Take The Heat
Granite is an igneous rock that takes hundreds of thousands of years to develop. It is naturally built to withstand the elements. Since it derives from molten magma deep within the earth, it can take the heat! Hot pans, baking sheets, and more can all be placed directly on the surface without leaving their mark. This means that if you take something out of the oven and forget to put a hot pad out, no worries! Your granite countertop will
welcome it without harm.
What is sealing? Because granite is porous by nature, it can absorb all kinds of things, which means that it's prone to stains and spills and can hold germs within that are hard to get rid of. A sealing treatment is a process of blocking these holes so that granite will repel instead of absorbing stains and is a vital component of creating a low-maintenance countertop.
Our Granite Countertops Are Built To Last
When you choose us for granite countertops, we fabricate them for your home. Our detailed process ensures that you get everything you're looking for in edge style, backsplash, color, and other design features. We have a large selection. Please give us a call, contact us, or come by our showroom today to upgrade to granite in your home!