Selecting a high-quality sink that will work with your new countertops is easy with American Marble & Granite. We take the stress out of the process by offering a variety of sinks that combine functionality, style, and affordability. Some of the lines we carry are available to view online below, and we have additional options in the showroom.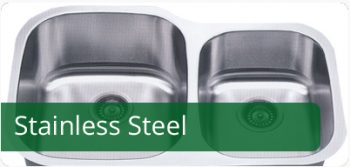 Stainless Steel: Stainless steel sinks are by far the most popular type of sink used with granite and quartz kitchen counters.
We stock a line of high quality 16 gauge under-mount stainless steel sinks, including Linea Bellagio.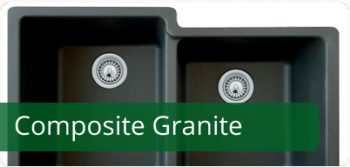 Composite Granite: These sinks are also very popular because of their durability and color palette. Composite granite sinks are manufactured with a mix of 80% crushed granite and 20% epoxy resins and color pigments. They come both in under mount and top mount styles.
Porcelain Ceramic Vanity Sinks: Most homeowners prefer porcelain sinks in the bath because of their durability. Oval sinks have long been the #1 choice, but rectangle sinks have gained in popularity the past few years.