Looking to Update Your Kitchen?
One of the best ways to change up the look of your kitchen is to update the countertops. Did you know that, in most cases, an updated kitchen adds value to your home? If you're looking to sell your home soon, you may want to update your kitchen before putting it on the market. Granite countertops are a great way to enhance your kitchen and add value to your home!
Five Benefits of Granite Countertops
Granite, as a natural stone, is one of the hardest materials in the world. Granite countertops often reflect sophistication and luxury when used as your kitchen countertops. The following are some of the benefits of granite countertops in your kitchen.
1. Resists Chips and Scratches
One of the best reasons to choose granite countertops for your kitchen is that the material is so durable that it resists chips and scratches under normal use. Granite is the second hardest material in the world, just behind diamonds. However, you should always use a cutting board for dicing, chopping, and slicing foods since sharp knives and cleavers may damage the granite. If granite countertops are installed properly, they will last for decades.
2. Affordable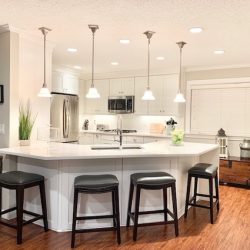 Have you ever wondered why granite countertops are so popular? Part of it is due to their high affordability. Prices range from $40 a square foot to $200, including installation costs. The variation in pricing results from the thickness of the slab and the resulting increased installation costs. The thicker the slab, the more expensive it will be to install.
If you want the benefits of granite without breaking the bank, you may be able to install granite tiles on your countertop to reduce the overall price. Talk to a professional here at American Marble & Granite for more information on how to update your kitchen countertops with granite!
Additionally, the affordability of granite increases when you think about the investment you're making. Most granite countertops will last at least thirty years (some even longer than that)!
3. Heat Resistant
Another benefit to granite countertops is their heat resistance. Granite is naturally formed by pressure and heat which means that granite countertops resist heat well. You can even put a hot pot or pan on the surface of your granite countertops without scorching it, though we recommend using pot holders.
4. Stain Resistant
In addition to heat resistance, granite countertops are stain resistant with a properly applied sealant. Granite is a porous material and can be stained by alkalines and acids. However, with a proper sealant applied annually, your granite countertops will maintain stain resistance. Keep in mind that any liquid and food spills should still be removed immediately with water and a mild detergent (such as a natural cleaner or a small amount of soap). If spills dry on the counter top, you should be able to gently scrape them off using a plastic scraper. When you have granite countertops installed, ask the installation expert about the type of sealant to apply every year.
5. Unique
Each piece of granite is unique, so you can be sure that no one will have the same countertops as you do. If you want a one of a kind, natural surface in your kitchen, call American Marble & Granite to get started today! There are many different types of granite depending on which granite slab would work best for your granite kitchen countertops. Granite is a popular choice and the natural pattern of sealed granite countertops will set your kitchen above and beyond!
How Can American Marble & Granite Help You?
First, our technological advances give us the ability to produce a product of the highest quality while maintaining solid schedules. Furthermore, our staff is not only comfortable working within the modern office but we enthusiastically embrace it. AMG's project managers are tuned in to the needs of the commercial and residential builder, designer and engineer. Our comfort working with plans, .pdf's, cad files, etc. will help your project progress smoothly with no details being missed.
In addition, our history and portfolio of truly unique projects is extensive. Tight tolerances, new modern designs and troubleshooting of challenging concepts are areas where we genuinely thrive. Through digital templating, ultra high-pressure waterjet cutting, CNC machining and an intuitive understanding of computer-based design AMG can take on challenges most shops can't. We have several companies that we work with regularly in which we produce tops via email design that are then shipped around the country for installation. In these situations, extremely tight tolerances are required. These relationships have proved to be mutually beneficial.
Finally, at AMG we work very hard to provide punctual bids, fair and honest pricing, the highest quality of finished products, and time schedules. We work with all of the natural stones and quartz brands. Through our extensive stock of slabs and granite samples, we can usually help find solutions for tighter budgets. At AMG we truly understand the needs and desires of our professional clients and strive to achieve everything that they might desire when it comes to granite surfaces in their home or business.